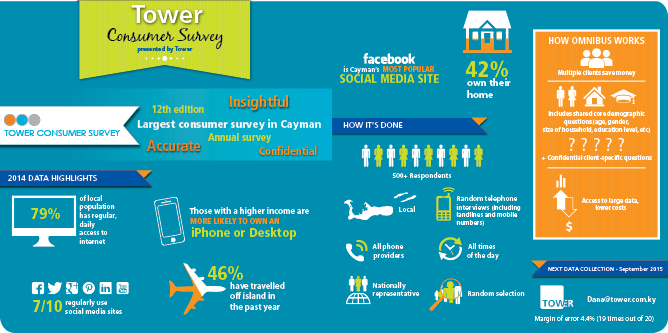 Market research
We have a unique understanding of the Caymanian market and consumer and have been carrying out market research for clients for the past 12 years. Our research services include focus groups, mystery shopping, face-to-face surveys, telephone surveys and online surveys – for a range of industries and sample sizes.
We have carried out research for a number of multinational companies such as British American Tobacco, as well as for local companies DART, CINICO, CUC, the Cayman Islands Health Services Authority, Island Heritage, HSBC, the Cayman Islands Department of Tourism, the Cayman Islands Airports Authority, Digicel, Rubis, First Caribbean Bank, BritCay, Yellow Pages and WestTel.
Tower maintains strategic alliances with a number of regional market research firms, allowing us to develop and execute regional research projects if required.
We have also completed 10 Tower Consumer Omnibus Surveys, which is the largest consumer survey conducted in the Cayman Islands with 500-1,000 respondents. Within the past two years, Tower has conducted six telephone surveys, totalling over 11,000 respondents.
Find out more about our Tower Consumer Survey.
Tower has a trained team of fieldworkers it can draw on when required, as well as two experienced market research supervisors. We also boast a team of marketing professionals and access to a consultant with advanced statistical skills, all of whom have a deep understanding of the local market, as well as thorough technical understanding.
However, here at Tower we believe the best evidence of our high level of client service is to allow our clients to speak for themselves…
What Our Market Research Clients Say
"Quite simply Tower Marketing is among one of the best in the region when it comes to executing market research projects. We have worked with them for over two years and are satisfied with their efficiency, service and the integrity of their work. They take the internal procedures seriously which gives us a tremendous amount of comfort in the survey's results." – Carlos Monzon, Prodatos (Costa Rica)
"I believe the Omnibus research survey is a very important tool and we are very grateful to Tower as it has consistently provided this initiative to local companies that otherwise might not be able to afford the total cost of market research of this magnitude." – Eileen Keens, Marketing Manager – Cayman Islands Yellow Pages