To celebrate five decades of service, Cayman Airways has launched a competition on its Facebook and Instagram pages, asking followers to share their favourite Cayman Airways moments to be in with a chance of winning travel vouchers and the Grand Prize of a round trip for two to any Cayman Airways gateway.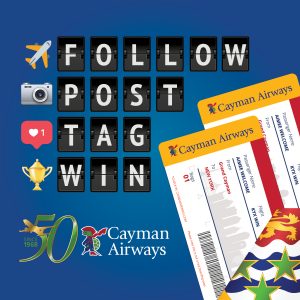 The idea behind the nostalgic competition is for Cayman Airways customers to reflect on the national carrier's fifty years of service and to share photo memories which were made possible because of Cayman Airways.
Following a successful Instagram launch last year, Cayman Airways has recognised the impact of social media with its lively and engaged online customer base.
"We're really excited about running this competition as part of the ongoing celebrations for our national airline's 50th Anniversary," said Mrs. Olivia Scott-Ramirez, Cayman Airways' Marketing and Public Relations Manager. "Cayman Airways has been such an important part of so many great memories and milestones for our customers – from honeymoons and family vacations, to university trips and magical getaways near and far."
"We've had almost 200 entries already. It gives us great pride to see so many local and international followers interacting with Cayman Airways over social media and we wanted to give something back to our loyal fans and followers. This is one of the largest competitions we have run recently at Cayman Airways, and we're really enjoying going through and reflecting on everyone's old memories."
Entrants are asked to post a photograph of their favourite memory involving Cayman Airways. A weekly winner will be drawn each week for a period of four weeks and a Grand Prize winner will be announced at the end of the competition. The competition is now live and will end Friday 24th September.
For a chance to win, follow @CaymanAirways on Instagram or Facebook, upload your Cayman Airways memory and use the hashtag #HappyAnniversaryKX to be automatically entered. Terms and conditions apply and can be found at www.caymanairways.com/KX50ContestTandC