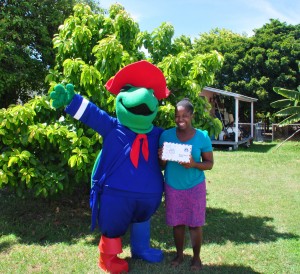 Friday 28 July saw Sir Turtle surprising Cayman Airways Instagram competition winners with their prizes in numerous locations across Grand Cayman. Sir Turtle travelled across the island, from West Bay to Newlands, dropping off winner's packs to the surprised competition winners, and stopped off along the way at Governor's Beach and the George Town Library to greet both young and old fans.
Cayman Airways expanded their social platforms and launched their Instagram account earlier this year with a unique competition, awarding 24 free flights to each of their gateway destinations to the lucky winners.
Amassing over 500 entries and 2,000 followers in four short weeks, entrants were required to follow @CaymanAirways on Instagram, like, repost and tag a travel buddy for their dream Cayman Airways gateway.
"It was great to see so many followers and competition entries in such a short time period, especially on a newly launched platform," Cayman Airways Marketing and Public Relations Manager, Olivia Scott-Ramirez said. "It gives us great pride to see so many local and international followers interacting with Cayman Airways over social media and we wanted to give something back to our loyal fans and followers."
"This is one of the largest competitions we have run in recent years at Cayman Airways, and we look forward to seeing what our winners get up to on their trips."
The winners for the Cayman Airways Instagram competition included: Valeen Williams, who won tickets to Grand Cayman; Sharda Ebanks won tickets to Cayman Brac; Anne-Marie Phylicia Stephens won tickets to Chicago; Mandy Sasic won tickets to Kingston; Brittany Borden, tickets to La Ceiba; Cianna Barlow, tickets to Havana; Amy Mobley, tickets to Montego Bay; Sarah Bushea, to Dallas; Maxim Matienzo, tickets to Tampa; Joan Ebanks, to Miami; Bonnie Haylock, to Roatan; and Erin Bodden won tickets to New York.
For a chance to win trips with Cayman Airways and to see Sir Turtle in action, follow @CaymanAirways on Instagram, Facebook and Twitter.
Instagram: www.instagram.com/caymanairways
Facebook: www.facebook.com/CaymanAirways
Twitter: www.twitter.com/CaymanAirways