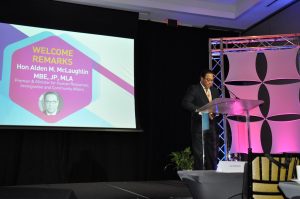 The first Cayman Islands Digital Economy Conference welcomed over a hundred delegates to the Kimpton Seafire Resort & Spa, June 21st 2018 to explore essential concepts and insights into the future of Cayman's digital economy.
Following a welcome address by the Honourable Alden McLaughlin, CyDEC 2018 saw an impressive roster of international and local speakers who covered a range of topics on the rapidly developing world of technology and the direct impact on Cayman's economy.
Giles Watkins, Founder S4i and Member of ISO Standards Board for Blockchain argued that there are gaps between emergent technologies and established institutions, whereby many established institutions do not trust the new technologies, while such technologies do not have access to these established institutions.
"This coupled with a world still trying to catch up  with achieving its sustainable development goals means we need new approaches to bridge the gaps, so society can better benefit from technological innovation," said Mr. Watkins.
"Society needs a new operating system," said Mr. Watkins, arguing that worker retraining, company rebuilding and governance approaches are necessary to help bridge the gap and improve society.
"In the age of 'fake news' and increasing digital crime, forward-looking organisations will focus on the need to re-establish 'digital trust' with customers and citizens", said Mr. Watkins.
His presentation was not only on FinTech, but included a fascinating presentation on technology more generally and its impact on society.
Dr. Arvo Ott, who flew in from Estonia for the conference, opened the presentations by exploring how governments around the globe are digitising services in order to improve efficiency and value to local communities. Director of e-Government, Cayman Islands Government, Ian Tibbetts then took to the stage to explain how the Cayman Islands public sector is being transformed and what the future looks like for Cayman's e-Government.
Expert panels featuring international and local experts focused on how the world of companies and consumers is being disrupted, the risks faced and the outlook for Cayman, as well as how to better manage the risks in financial services innovation.
Other international speakers included: Igor Telyatnikov Co-Founder, President and COO, AlphaPoint, and John Edge, EQI Advisor and Co-Founder and Chairman of ID2020.
Conference organiser, Paul Byles, said, "The idea behind CYDEC was simple: to provide a forum that allows the business and wider community in the Cayman Islands to stay abreast not only of technological innovations, but how these development impact our way of life and the way we do business in this jurisdiction."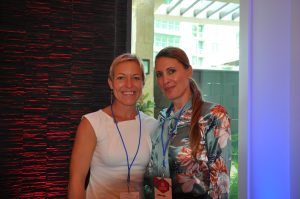 "This idea received tremendous support since its announcement and I am grateful to all the sponsors, speakers, panellists and guests who joined us at CyDEC 2018 in our quest to keep the Cayman Islands community on par with the most progressive economies around the world."
CyDEC would like to thank sponsors, EQI, Tower, Ministry of Financial Services & Home Affairs, Ministry of Commerce, Planning & Infrastructure, Brac Information Centre, Cayman Tech City, Ministry of District Administration, Tourism & Transport and FTS.
For more information on the conference visit www.cydec.ky.