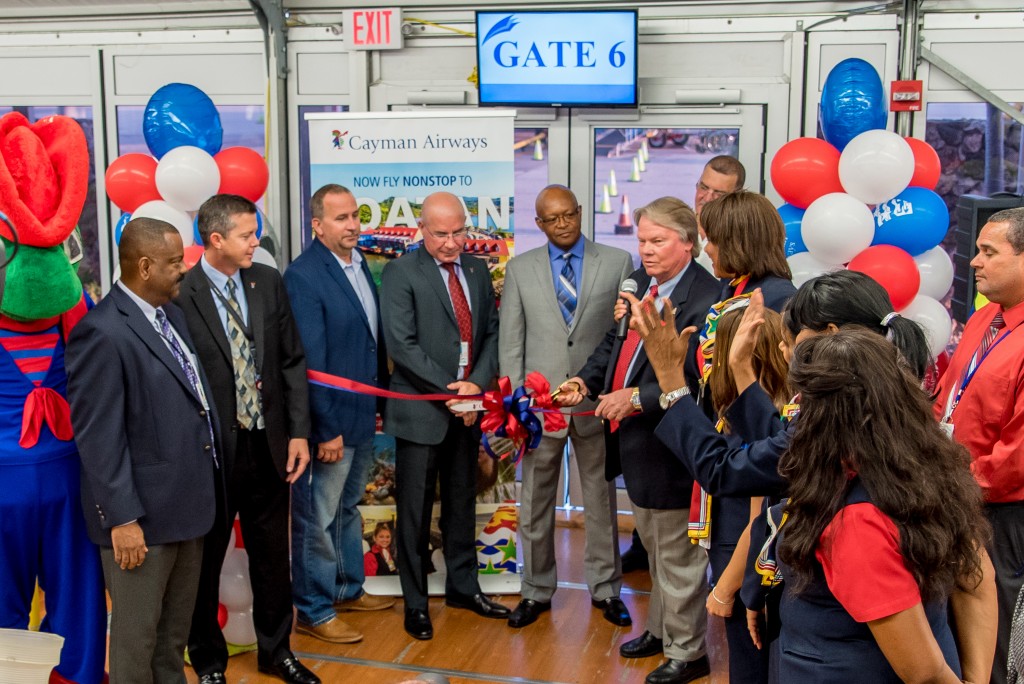 Cayman Airways Limited (CAL) has launched a new regional route connecting Grand Cayman and Roatan, Honduras, with twice-weekly nonstop flights.
The inaugural flight to Roatan, KX844, departed Grand Cayman on Thursday March 16, 2017 following a customary ribbon cutting ceremony by airline and government officials at Owen Roberts International Airport (ORIA). The Cayman Islands Fire Service also conducted a traditional water-cannon salute of the aircraft as it entered the runway for takeoff.
"The Cayman Islands have had a long history with Honduras and particularly the Bay Islands," explained the Hon. Moses Kirk Connell, Deputy Premier and Minister of District Administration, Tourism and Transport. "New service between Grand Cayman and Roatan reconnects that link and will provide convenient travel options for Caymanians and inbound visitors. In addition to the direct service between our two countries, we also see opportunities to explore dual destination Travel in the future."
Cayman Airways President and CEO, Mr. Fabian Whorms said Cayman Airways was proud to add yet another international route to its growing list of destinations.
"Grand Cayman acts as an extremely convenient hub between a number of destinations," he said. "Last year, we had a steady stream of passengers taking advantage of the connection Cayman Airways provides between Miami, La Ceiba Honduras and Grand Cayman," he said. "Adding Roatan as a Cayman Airways gateway not only broadens travel possibilities and increases connectivity options for our passengers, but further enhances an already well-established relationship with Honduras."
Mr. Whorms noted that Cayman Airways passengers will also enjoy convenient same-day connections between Roatan and New York, Miami, and Tampa. There are also connecting flight options between Roatan and Cayman Airways' other regional markets, Kingston and Havana.
For the inaugural flight, the Boeing 737 aircraft was under the command of Captain Arlond Brooks, and touched down at Roatan's Juan Manuel Glavez International Airport to a waiting crowd and a reciprocal water-cannon salute. To commemorate the service launch, a special press conference was held at the Roatan airport with: the Honduras Minister of Tourism, Mr. Emilio Silvestri; the Mayor of Roatan, Mr. Ricardo Merren; Chairman of the Cayman Airways Board of Directors, Mr. Philip Rankin, CPA; and Cayman Airways President and Chief Executive Officer, Mr. Fabian Whorms. Several other members of the Cayman Airways Board of Directors were also in attendance, along with various Roatan hoteliers, representatives of the Roatan tourism industry.
"Service between Grand Cayman and Roatan has been discussed for many years, so we are thrilled to celebrate this historic occasion for both our countries," commented Mr. Philip Rankin.
Roatan is the largest and most developed of the Bay Islands, located 65km off the northern coast of Honduras. The island is known for its beautiful beaches, dive spots, and tropical wildlife. The island's reef system is part of the Mesoamerican reef which boasts the largest marine biodiversity in the world, and is part of the second longest barrier reef in the world.
The nonstop flight to Roatan will operate Thursdays and Saturdays, with flight KX884 departing Grand Cayman at 6:50pm, arriving in Roatan at 7pm (Roatan time).
The return flights are on Fridays and Sundays, with flight KX885 departing Roatan at 8:00am, arriving on Grand Cayman at 10:10am.
For flight details and to book, call Cayman Airways Reservations on 949-2311 (Cayman), (504)-2442-1075 (Honduras), contact any of the licensed travel agent partners in Cayman and Honduras, or book online at caymanairways.com.
---
March 24, 2017 – Radio Cayman
March 23, 2017 – Cayman Compass  , Carib Journal